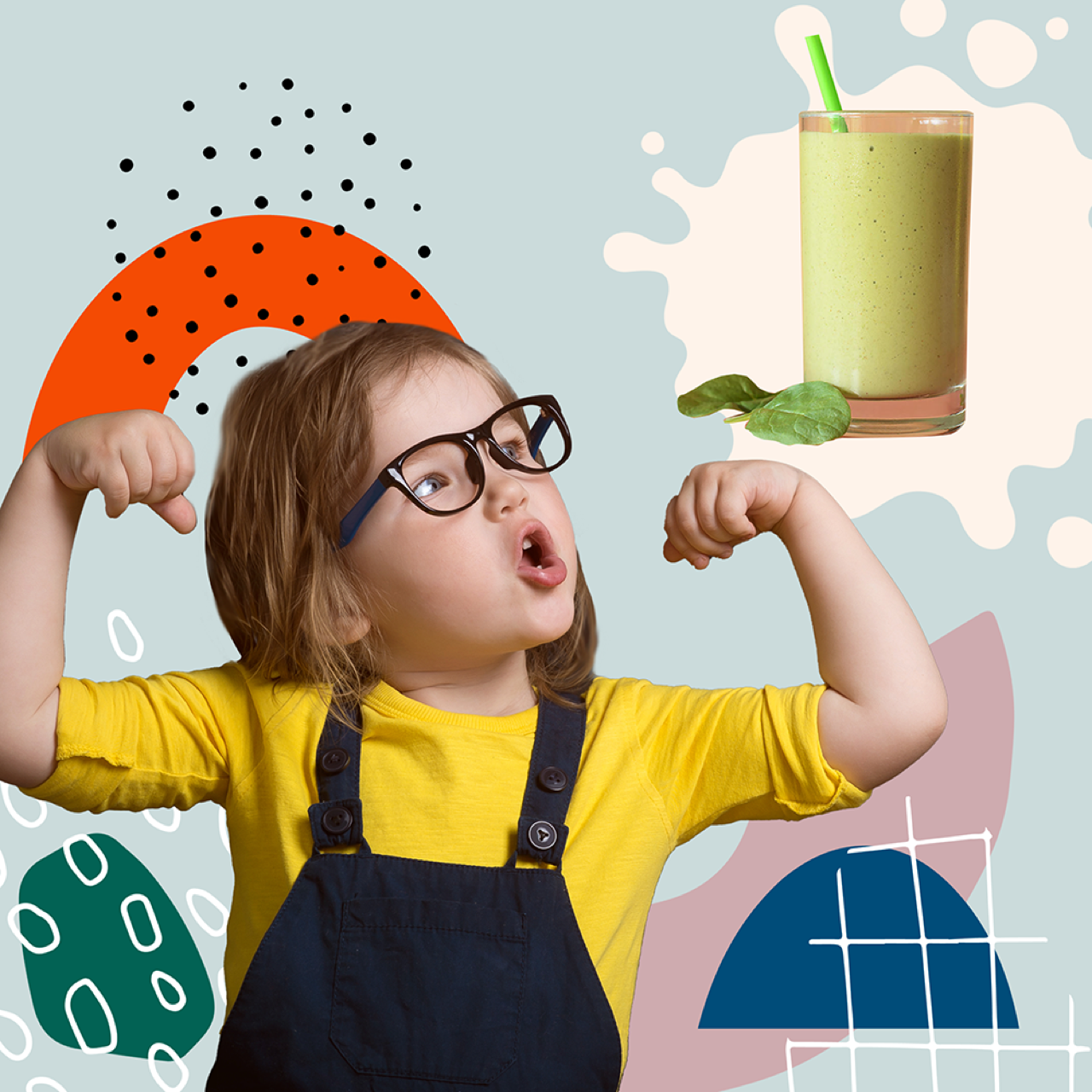 Listen to this article:

Feeding kids to adequately fuel their growth and development is among the most common concerns among parents and caregivers. This is perfectly normal, as nutrition is obviously a critical part of your child's well-being. 
If you've noticed a regular disinterest in the foods being offered to your child, and observed a slowing in weight gain, shakes intended as children's meal supplements may be helpful. 
Protein powder products and commercial protein drinks for kids should not be used without the guidance of a pediatrician or dietitian. Excessive protein for kids is unnecessary and can even be stressful for developing organs. Instead, homemade organic protein shakes for kids, made from real foods that are naturally rich in protein, calories, and other nutrients, can be more beneficial for underweight children compared to protein powder shakes.
Considerations when choosing meal replacements for kids
If you think that your child needs a supplemental source of calories, be sure that the addition of a high energy meal replacement is appropriate. 
When considering adding calorie-dense shakes to your child's diet, here are some questions to address first: 
How will a meal replacement shake be used in your child's diet? What is the goal?

When is the best time(s) of day to offer supplemental shakes to your child? 

How long do you plan to use meal replacement shakes?

How will you be monitoring the success of using shakes with your kids? How will you know when you don't need to use them anymore?

What ingredients do you need to avoid? Does your child have food allergies or intolerances?

What are some of your picky eater's current food preferences, which could help determine flavors that would be well received?

Are there specific nutrients that you feel are lacking in your child's diet that could be prioritized in shakes?
Always be sure to speak with your child's healthcare provider if there are serious concerns about weight and nutritional status, to make sure shakes are the best answer. Once you have a clear plan for how, and what types, of healthy meal replacements will make the most sense for your child's diet, you should consider potential cautions. 
Cautions about giving meal supplements to kids
Meal replacement shakes shouldn't actually replace meals for kids. In other words, a homemade nutrition shake should never take the place of a balanced breakfast, lunch, or dinner. 
Structured meals and mealtimes are very important for a child's development, and solid foods shouldn't be reduced even if your child often refuses to eat them. Kids are known for requiring many opportunities to try new foods before they actually do. That being said, shakes can offer a nutritional booster in the event that your child continuously declines food at meals.
Instead, shakes should be used supplementally, or alongside meals as a beverage. They can also work well in between meals for snacks. 
Furthermore, it's important not to normalize liquid "meals" for your child, as this could potentially promote disordered eating behaviors as they get older. Instead, nutrient-dense shakes should be served as simply one part of a regular, healthy diet full of whole plant-based foods, and only used temporarily.
If your child is old enough to understand, you can have a conversation with him or her about why you offer shakes. Explaining that the shakes offer nutrients that help them grow and give them energy to play can be enough. He or she may even be able to help make them or choose what goes into them. 
Keep in mind that the goal of supplemental shakes for kids also shouldn't be to provide an oversupply of fat and protein, but simply to provide more overall nutrition consistently throughout the day.
And even though high sugar ingredients and syrups contain a lot of calories, these shouldn't be relied upon for weight gain as they don't provide nutritional benefits. There are plenty of energy-dense whole foods that can be used to make shakes without added sugar. 
Advantages of shakes for kids
Shakes are an excellent way to combine a wide variety of foods into one cup. Kids have small tummies, and homemade shakes can help present a concentrated source of calories and nutrition in a smaller serving size to help promote weight gain.
Seasoned parents are well aware that kids, especially in the early years, are notorious for skipping meals and refusing food. If you've ever had a child who would be happy trying to subsist on crackers and one bite of yogurt for meals, you're far from alone. But if it gets to a point where even creative presentation and persistence aren't paying off, and you notice that your child isn't gaining weight as expected, a shake may help. 
Supplemental shakes can also help introduce your child to new flavors. Alternatively, while foods should never be hidden from kids, blended shakes can be an additional way to present healthy foods your kids haven't quite warmed up to yet. 
Components of shakes for kids
Shakes used to supplement meals for kids should be made with healthy whole foods and crafted with optimal nutrition in mind. 
Using nutrient-dense whole foods that are naturally good sources of healthy fats, protein, and complex carbohydrates are a good place to start. They're also a great opportunity to combine numerous flavors from nutritious fruits and veggies.
Whole plant foods that can be used to make healthy, energy-rich children's meal supplements include:
Nuts and their butters
If your kids are little and you're concerned about nuts as a choking hazard, using them in healthy smoothies can help. Certain raw nuts, like cashews and peanuts, blend well into liquids. Alternatively, you can use peanut butter, almond butter, cashew butter, or sunflower butter in shakes. Just 1 tablespoon can contribute nearly 100 calories and 8 grams of protein. 
Fortified non-dairy milks
Milk is a creamy, neutral, low sugar alternative to fruit juice when making shakes. It also offers calories, whereas using water would not. 
Soy and pea milk contain a similar nutritional makeup to dairy milk. Choose unsweetened varieties to minimize added sugar. It's also a good idea to find fortified versions, as many will contain important micronutrients like vitamins D and B12. 
Canned coconut milk
If you're really looking to boost calories, canned coconut milk is incredibly energy dense. That being said, it's also high in saturated fat, so it's best to use in moderation. The flavor of coconut lends well to a variety of shakes, whether they're chocolate, nut, or fruit-based. Just a ¼-cup serving of canned coconut milk can contribute 75 calories. 
Non-dairy yogurt
Even plant-based commercial yogurts are often high in added sugar, but unsweetened versions can still contribute creaminess to smoothies. Vegan yogurts may be made from flax, soy, coconut, cashews, oats, or almonds. Look for ones that contain probiotics, or live and active cultures, which may help support your child's gut health. 
Seeds
Flax, chia, and hemp seeds are full of healthy unsaturated omega-3 fatty acids as well as micronutrients like calcium and iron. Just 1 tablespoon of flax can provide 3 grams of protein and around 60 calories.
Pitted dates
Dates are a great way to add natural sweetness to shakes, and you only need 1-2 in a recipe. Just be sure to remove the pit! One Medjool date contains 70 calories and 0.5 gram of protein.
Frozen fruits
Your child likely has some favorite fruits already, and shakes are a great place to use these familiar flavors as well as introduce new ones. It can be helpful to keep a freezer stocked with frozen mixed berries, pineapple, mango, and cherries. Fruits are packed with vitamins, minerals, and antioxidants.
Leafy greens
Greens, like spinach, kale, and Swiss chard, are often more accepted in the form of a shake than they may be in raw form on a dinner plate. They can blend well in chocolate peanut butter shakes, tropical shakes, or berry-based ones. And of course, while greens are low in calories, they're one of the most nutrient-rich foods on the planet.
Avocados
Avocados are naturally creamy and have a neutral flavor that works well in a chocolate shake or a fruit smoothie. They're high in unsaturated omega-3 fats and important nutrients like folate and fiber. One-half of an avocado has around 120 calories, 2 grams of protein, and 10 grams of fat.
Tofu
Silken tofu is the creamiest form and the best to use in blended recipes like meal replacement shakes. Soy contributes a very mild flavor that goes well with most ingredients and can help thicken shakes. One slice (85 grams) of silken tofu has around 45 calories and 4 grams of protein. 
Green peas
This may sound strange, but green peas are a great source of plant protein and have a mild enough flavor not to overpower a shake. Peas go well with flavors like chocolate or banana and spinach. A ⅓-cup serving of green peas contributes 35 calories and around 3 grams of protein.
Plant oils
While oils often get a bad rap for being processed fats, in the case of weight gain for kids, choosing a high-quality plant oil can be helpful for boosting calories. A small amount of avocado, flax, or olive oil can work in shakes. While there's no protein, just a ½ tablespoon of olive oil can provide 60 calories and 7 grams of unsaturated fat.
Beans
White beans (like cannellini, northern, or navy beans) offer a neutral flavor that goes well with fruits and veggies. Even just a ¼-cup serving of canned white beans can offer 75 calories and 5 grams of protein. Plus, canned beans are an inexpensive pantry staple to keep on hand. 
Grains
Rolled oats, in their dry form, or even a small amount of cooked rice or quinoa can blend nicely in a shake, providing bulk and nutrition. Just a ¼-cup serving of quinoa can provide 1-2 grams of protein to a shake, in addition to fiber, vitamins, and minerals.
Else toddler formula
Else toddler formula was designed specifically for children and is packed with nutrients. It's also incredibly versatile and can be added to any homemade shake. The best part is that Else formula is plant-based, and free from dairy, gluten, soy, and corn syrup. 
FAQs about when and how to use supplemental shakes for kids
You may have questions about when it's appropriate to add supplemental shakes to your child's diet. It's always best to speak with your pediatrician or dietitian for a personalized nutrition or
weight gain plan for your child. In the meantime, here are some answers to common concerns among parents and caregivers.
How can I get my kid to gain weight?
Generally speaking, a child is considered underweight if he or she falls in the bottom 5th percentile for weight compared to their height. 
From birth to age 2 years, where kids fall is determined using a weight-to-length measurement. After that, pediatricians use growth charts from the Centers for Disease Control to determine body mass index (BMI) to compare weight to height.
If your child needs to gain weight, and there doesn't appear to be anything else medical-relate going on, here are a few diet-related things that may help promote weight gain:
Keep snacks in check. Even though snacks provide calories, they tend to be nutrient-poor. They make your child full, which can prevent them from wanting to eat at actual mealtime. 

If you've noticed that your child is grazing throughout the day, this is one place to start. Set a regular, predictable eating schedule that revolves around nutritious, satiable meals. If kids have to wait for meals, they will eat more calories then. You can even create a designated "snack basket" for the day, where you stock it with all of the snack options he or she can eat that day, allowing choice with boundaries.


Minimize use of electronics

. Eating in front of technology, whether TV, iPad, cellphone, or otherwise, encourages mindless eating. In other words, kids learn to eat without really thinking about it when they're distracted. Teach hunger and fullness cues by separating electronic use from snack and meal times. Have designated places for each. 
Rely on whole foods. Kids can easily become used to eating foods that taste good, but don't provide much in the way of nutrition. One example is fruit juice, a common "kid food" that will fill them up with added sugar without providing macronutrients for weight gain. 

Instead, make nutrient-dense food pairings a focus of both meals and snacks (e.g., apples with peanut butter, bean dip with whole grain crackers, guacamole as a topping, granola in yogurt, homemade trail mix with nuts). You can also cook veggies with a bit of plant oil to add fat and calories.
Supplement with shakes

. Your blender is a great tool for creating energy-dense beverages for your child that can promote weight gain. Shakes made with whole foods can provide weight gain promoting nutrition without taking up a lot of space in your child's stomach. These are also an ideal opportunity to use nutrition supplements intended for children, like Else toddler formula. 
How can I increase my child's appetite naturally?
In addition to the tips above, you can also encourage your child's natural appetite by helping him or her engage in regular physical activity. This doesn't mean encouraging exercise or "working out". Instead, allowing your child to play as a regular part of his or her lifestyle is important. Turning off electronics can help. 
If they're interested in sports or other active hobbies, you can support them in trying these. You can also have fun being active together as a family, like riding bikes, playing imaginative games outside, or roller skating. Being active utilizes energy and stimulates hunger. 
It doesn't really matter what it is; it matters that your child sees physical activity as the norm, versus being sedentary. Plus, a healthy amount of activity in childhood helps to set your child up to enjoy being active throughout life.
Why is my child so skinny?
Kids come in all shapes and sizes, so it's important not to generalize. In fact, every child has his or her own ideal weight, where their body naturally tends to stay when being nourished well with a healthy amount of activity.
However, if you've noticed that your child's clothing is fitting more loosely than it should, they're not outgrowing their clothes as expected, or their ribs are prominently sticking out, he or she may be underweight. 
There are a multitude of reasons why a child may be underweight or on the skinny side.For instance, kids who were born prematurely are often underweight through childhood because they need to catch up to what's considered normal growth and weight gain for their age. 
As kids get older, however, simply not eating enough is a common reason for remaining on the thinner side. It's normal for kids to go through many phases of picky eating, which can lead to inadequate overall calorie intake. Paired with increased activity, this can lead to weight loss or prevent expected weight gain. 
If your child has food allergies, especially to common foods like nuts, gluten, corn, or soy, this can make it more challenging to get enough calories in a day. Medical reasons, like gastrointestinal or hormonal conditions, can also make getting enough calories difficult. Additionally, certain medications could suppress appetite or even inhibit nutrient absorption.
Again, if you're ever concerned about your child's weight, the best first step is always to set up an appointment with her pediatrician for a comprehensive assessment. 
Can kids have protein bars?
Even on a plant-based diet, protein deficiency is very rare. The fact is that as long as your child is eating enough calories overall, it's very unlikely that they aren't getting enough protein specifically. In fact, most adults and children get more protein than they actually need.
As such, protein bars are not usually necessary for kids and should never be relied upon to meet protein needs. Plus, many commercial bars contain added sugar and may use fillers or additives that don't offer much in the way of health benefits.
A better option is to make your own snack bars at home using things like almond flour, rolled oats, dried fruits, walnuts, and dates. These could be served slabbed with nut butter and a piece of fruit, as a healthy snack between meals for a weight gain plan. 
Another alternative is to make protein balls using canned chickpeas as the base. Simply blending together drained, rinsed chickpeas with some pitted dates, rolled oats, nut butter, and fresh berries creates a perfect dough that can be rolled into healthy, energy dense snack balls.  
10 healthy meal replacement shakes for kids
If your child could benefit from extra nutrition for weight gain, here are 10 easy, nutrient-dense recipe ideas for homemade meal replacement drink options for kids. Simply add all of the ingredients to a high-speed blender, puree until smooth, and divide into desired servings.
1. Banana Nut Butter Smoothie
1 frozen banana
2 cups plain unsweetened soy or pea milk
½ an avocado
2 Tbsp peanut or almond butter
2 Tbsp rolled oats
1 Tbsp ground flax or chia seed
1 scoop Else toddler formula
2. Cashew Cocoa Shake
1-2 pitted dates
1 ½ cups plain unsweetened soy or pea milk
2 Tbsp unsweetened cocoa powder
¼ cup raw cashews
1 scoop Else toddler formula 
3. Pineapple Coconut Smoothie
1 cup unsweetened soy or pea milk
½ cup canned coconut milk
1/4 cup rolled oats
1 Tbsp ground flax or chia seeds
1 cup pineapple chunks
1 pitted date
4. Tropical Green Smoothie
1 ½ cups unsweetened soy or pea milk
1 cup loose mixed greens, like kale or spinach
½ cup pineapple chunks
½ cup mango chunks
1 green apple
1 Tbsp ground flax or chia seed
5. Orange Creamsicle Smoothie
1 cup unsweetened soy or pea milk
½ cup canned coconut milk
½ cup non-dairy vanilla yogurt
1 cup frozen mango
1 orange, peeled
1 frozen banana
6. Berry Tofu Shake
1 cup unsweetened soy or pea milk
1 frozen banana
2 cups frozen mixed berries
1/2 cup silken tofu
7. Green Pea Shake
½ cup frozen peas
1 frozen banana
1 ½ cups unsweetened soy or pea milk
½ cup frozen blueberries
1 Tbsp peanut or almond butter
1 Tbsp ground flax or chia seeds
8. Cherry Cauliflower Shake
1 ½ cups unsweetened soy or pea milk
1-2 scoops Else toddler formula
¼ cup frozen cauliflower rice
½ cup frozen cherries
1 apple
½ frozen banana
1 Tbsp ground flax or chia seeds
9. Chocolate Avocado Shake
1 ½ cups unsweetened soy or pea milk
1 scoop Else toddler formula
1 tsp vanilla extract
1 avocado, pitted
2 pitted dates
1 frozen banana
2 Tbsp unsweetened cocoa powder
10. PB&J Shake
2 cups unsweetened soy or pea milk
1 cup frozen mixed berries
1 frozen banana
1 Tbsp ground flax or chia seeds
2 Tbsp peanut butter
1 scoop Else toddler formula

If you've been wondering how to help your child gain weight, or simply add more calories to his or her diet, a supplemental shake may be helpful. Kids go through many seasons of selective eating, and this can be stressful for parents and caregivers, especially if they are underweight.
Fortunately, you can easily make energy dense and nutritious shakes at home using whole foods. These can be used temporarily to support your child's active lifestyle and proper growth.
For nutrition help tailored uniquely to your child, it's best to speak with your pediatrician and registered dietitian. 
The content and advice provided in this article is for informational purposes only and is not a substitute for medical diagnosis, treatment, advice for specific medical conditions. Always consult a pediatrician to understand the individual needs of your child.
---