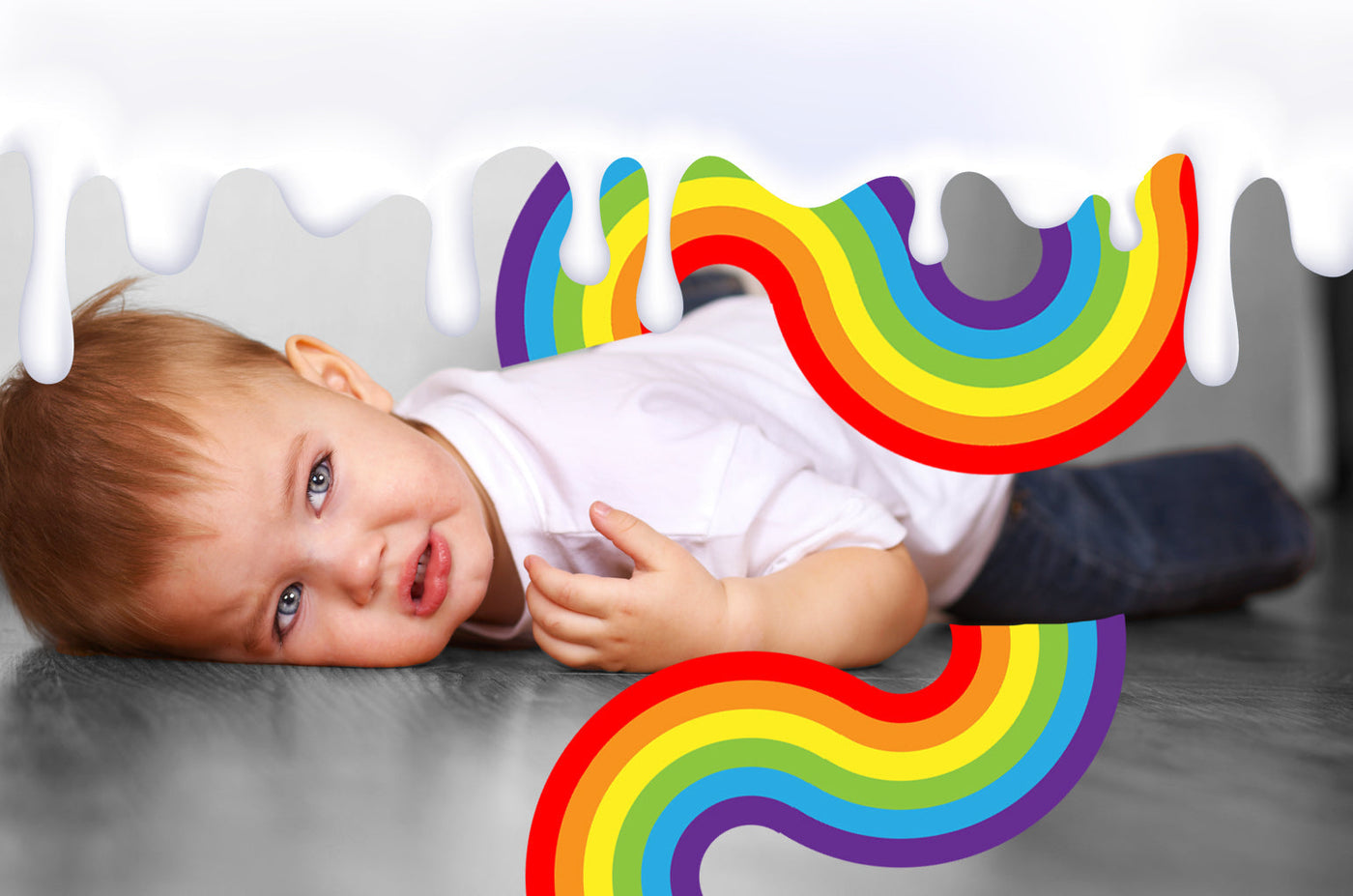 Listen to this article:
Your child has a mind of her own. She has her favorite colors, her favorite toys, and her favorite lullabies. And like many children, she might have her own ideas about what she eats and drinks. If your toddler won't drink cow's milk, you're not alone. A distaste for milk isn't uncommon—and it doesn't mean your child won't grow up strong, healthy, and happy.
Here's what you need to know if your child isn't a fan of milk. 
1. Take a Deep Breath – Milk Isn't The End-All-Be-All For Your Child's Health
While advertising has assured us that milk does a body good, it isn't an essential beverage for your child's growth. It's the micronutrients that are in milk that are so important. Namely, the most beneficial aspect of milk is its high calcium content. 
Thankfully, there are plenty of sources of calcium. 
2. It's Not About The Milk – It's About Calcium
When it comes to your toddler's development, calcium is key. The body uses calcium to build healthy bones and teeth—and throughout childhood, there's plenty to build. As your child grows, her body accumulates calcium for the many growth spurts she'll go through. That's why it's important to start increasing your child's calcium storage as early as possible, whether through a toddler formula vs infant formula.
3. Know How Much Calcium Your Child Needs
If your child would rather make a hilarious "yucky face" than drink a sippy cup of milk, don't worry. You can make sure that your child is still getting plenty of calcium. First, it's important to know how much your child will need. 
Toddlers, or kids aged 1-3, need 700 milligrams of calcium every day. 
Where can you find those 700 milligrams?
4. Add Plenty of Sources of Calcium in Your Child's Diet
Sources of calcium are everywhere, from the cereal aisle, to the produce section, and even in a toddler formula. If your child is refusing milk don't worry there are many milk alternatives. Some calcium-rich foods to try with your kid include:
Fortified grains like cereal

Cheese

Yogurt

Calcium-fortified tofu

White beans

Cottage cheese

Turnip greens

Broccoli

Edamame

Almonds

Oranges

Figs
Toddler Tip: Before whipping up a cheese and greens sampler, consider introducing these new calcium sources to your little one bit by bit. This can help you eliminate any allergies along the way.
5. Try Some Calcium-Rich Recipes
Your child might not like milk, but she might love another snack that's packed with calcium. Try these recipes and see if your child's "No, Mommy!" turns into "More Please!" 
Fruit Parfait

 

– Create a colorful dish perfect for breakfast or dessert by layering yogurt with your child's favorite fruits and topping it all off with calcium-rich cereal crumbled up like granola.




Broccoli and Cheese Soup

 

– Broccoli is easily made delicious with a blender, chicken or vegetable broth, and low-fat cheddar cheese. Chop and steam a head of broccoli, add it to your blender along with your broth of choice, cheese, and salt and pepper to taste. You can even get your child involved in the taste-testing process so you can both find your family's new favorite recipe!




Bean Dip or Hummus

 

– To make a kid-friendly bean dip, add a can of white beans to your blender or food processor along with lemon juice, olive oil, salt, and pepper. Or switch white beans with chickpeas to create a zesty hummus. You can smear the mix on pita bread or toast and watch your kids gobble it up.




Yogurt Ranch

 – Ranch dip is a hit when you want to encourage your kids to enjoy more veggies. Use a nonfat Greek yogurt as a base. Then, stir in the herbs and spices:





Dried parsley

Garlic powder

Onion powder

Black pepper

Salt

Dijon mustard

Lemon juice

Chopped chives



Adjust to your child's tastes and serve with veggies or homemade tortilla chips for calcium-packed boost. 
Mini Pizzas

 

– You can make calcium the most important topping on pizza night. Toast some whole wheat English muffins, then add tomato sauce (jarred marinara sauce works), and about ⅓ cup of low fat shredded cheese. Broil the muffins until the cheese is perfectly melty.



Canned Salmon Salad

 

– If you have a favorite tuna salad recipe, swap out the tuna for salmon. Salmon is high in calcium, plus it's packed with healthy omega-3's. For a bonus dose of calcium, use yogurt instead of mayonnaise—it's just as creamy but with added health benefits!
Calcium-Boosted Lasagna

 

– Finely chop kale, collard greens or leafy greens and sneak them into the layers of a lasagna. Don't forget to add plenty of mozzarella cheese—it'll help distract your toddler from the mysterious green stuff in between the delicious layers of noodles. 
With these recipes, your kitchen will be the epicenter of delicious, calcium-dense recipes. This way, you can be sure your child is getting the nutrients she needs for every growth spurt she has in store. 
6. Yes, You Can Still Try Sneaking In Some Milk
An easy way to get around your child's distaste for milk? Pull a Santa Claus and sneak the goods in! After all, one cup of 1% fat milk has 305 milligrams of calcium. Your child can enjoy some sneaky calcium through these methods: 
Feel free to experiment with all the ways you can add milk into your child's regular foods. You might be surprised at the combinations you discover.
Toddler Tip: One reason your little one doesn't like milk could be because they have a milk allergy or are lactose intolerance. Before sneaking milk into your toddler's favorite snack, always be sure to consult with your pediatrician. 
There are types of soy milk that also have large amounts of calcium that can be helpful. If they want to drink milk but it hurts their tummies soy milk is a good route to go down. Wean them off of the regular milk and have the realize that their tummies shouldn't hurt!
7. Resist the Urge to Sweeten The Deal 
Chocolate milk, strawberry milk, milk shakes—yup, it's a lot easier for your child to drink something she usually doesn't like when it's a lot sweeter. But that little extra bit of sugar may not be worth the calcium boost. The American Heart Association recommends limiting a child's sugary beverage intake as much as possible. For a balanced source of nutrition, it probably isn't worth the sugar. 
To meet your child's calcium needs, you might have to look somewhere Else. 
8. Try Else Toddler Formula
Formulated with your child's health in mind, Else is a plant-based toddler formula that's breaking the mold when it comes to wellness. 92% of Else's toddler formula comes from three nutrient rich ingredients:
Almonds

 

– Almonds are high in calcium, vitamin E, and antioxidants.



Tapioca

 

– A strong source of iron, healthy carbs, and of course, calcium, tapioca is a powerhouse of nutrients in every sip.



Buckwheat

 – Calcium, potassium, phosphorus, magnesium, vitamin K, and B vitamins all come together to make this nutritious grain. 
When these three whole ingredients combine, they offer your toddler 210 milligrams of calcium in just one serving. And what Else's formula doesn't have is just as important as what it does have. Else is free of GMOs, purified oil blends, artificial sweeteners, or highly processed ingredients and is made without chemical processing. So you can rest assured knowing that your child is getting the nutrients she needs. Else is a great way to get a good source of calcium without actually drinking milk. There are multiple products ranging from 6 months of age and above. Else can help your children stay on the right track with growth and development and is a way to ensure that they get the calcium they need. 
Give Your Child The Best Start, With or Without Milk
Every day, your child is learning who she is through what she likes and what she doesn't. So even if your child is decidedly not a fan of milk, she can still feel and be her best with a little help from Mom and calcium-rich food sources like Else. 
Else's revolutionary whole food approach makes no compromises when it comes to children's health. Winner of the Clean Label Project Purity Award and developed with organic ingredients, you and your toddler can feel amazing with every sip. 
Sources:
KidsHealth. Calcium. https://kidshealth.org/en/parents/calcium.html
American Bone Health. Key Factor for Absorbing Calcium. https://americanbonehealth.org/nutrition/key-factor-for-absorbing-calcium/
Everyday Health. Calcium-Rich Foods for Kids. https://www.everydayhealth.com/diet-nutrition-pictures/calcium-rich-foods-for-kids.aspx
American Heart Association. What should your baby or child be drinking? Health groups now agree. https://www.heart.org/en/news/2019/09/18/what-should-your-baby-or-child-be-drinking-health-groups-now-agree
National Institute of Arthritis and Musculoskeletal and Skin Diseases. Kids and Their Bones: A Guide for Parents. https://www.bones.nih.gov/health-info/bone/bone-health/juvenile#5
Medical News Today. 6 Nutrition Facts About Tapioca. https://www.medicalnewstoday.com/articles/318411
The content and advice provided in this article is for informational purposes only and is not a substitute for medical diagnosis, treatment, advice for specific medical conditions. Always consult a pediatrician to understand the individual needs of your child. 
---