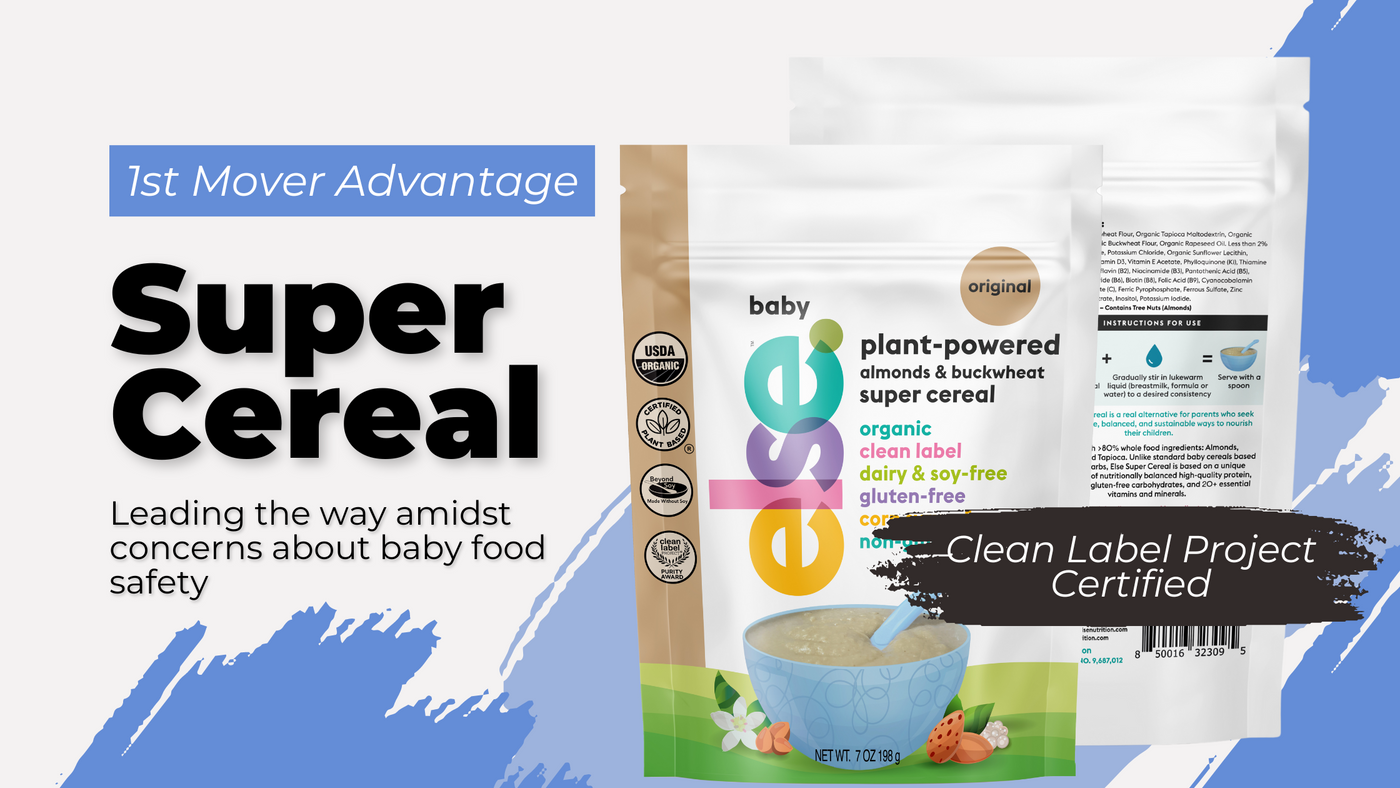 In a world where parents are increasingly vigilant about the food they feed their children, the name Else Nutrition has become synonymous with safety and innovation. Amidst disturbing revelations about the presence of heavy metals in leading baby food brands, Else Nutrition has emerged as a beacon of hope and trust.
The Problem with Heavy Metals in Baby Food

Leading news sources like Bloomberg have highlighted the alarming prevalence of toxic metals in baby food. Consumer awareness has been further heightened by Consumer Reports which continues to shed light on this issue, leaving parents in a worrying search for safer alternatives.
Else Nutrition's Solution – Baby Super Cereal
Against this backdrop, Else Nutrition's Baby Super Cereal has emerged as the first Clean Label Certified Baby Food in the U.S. Made from organic, whole plant-based ingredients, this innovative product offers a balanced blend of plant protein, healthy fats, gluten-free carbs with natural fibers, and over 20 essential vitamins and minerals. A key differentiator of Baby Super Cereal is its inclusion of protein, eliminating the need for milk addition common in most cereals, thus serving as a wholesome, stand-alone meal for infants.
Moreover, many parents have found value in using the different flavors of Baby Super Cereal as a way to introduce diverse tastes to their babies. With flavors like mango, banana and vanilla available individually or in a convenient cereal flavor combo pack, the options for nutrient-dense, flavorful, and safe meals are plentiful.
Else Nutrition's Advocacy
Else Nutrition is not just about providing safer alternatives; it also emphasizes the importance of educating the public. A recent webinar on heavy metals hosted by the company brought together experts to discuss the "heavy metals in baby food" issue and advance the dialogue on safer infant nutrition. By fostering such conversations, Else Nutrition reaffirms its commitment to the cause and leads the charge towards a safer, healthier future in infant nutrition.
Conclusion
Else Nutrition's early mover advantage is evident not only in its innovative products but also in its unwavering commitment to championing safer infant nutrition. This commitment is rooted in the core brand values that have guided the company since its inception. As public concerns rise, Else Nutrition's focus on safety, quality, and education sets it apart and positions it as a trusted leader in the infant nutrition space.
---