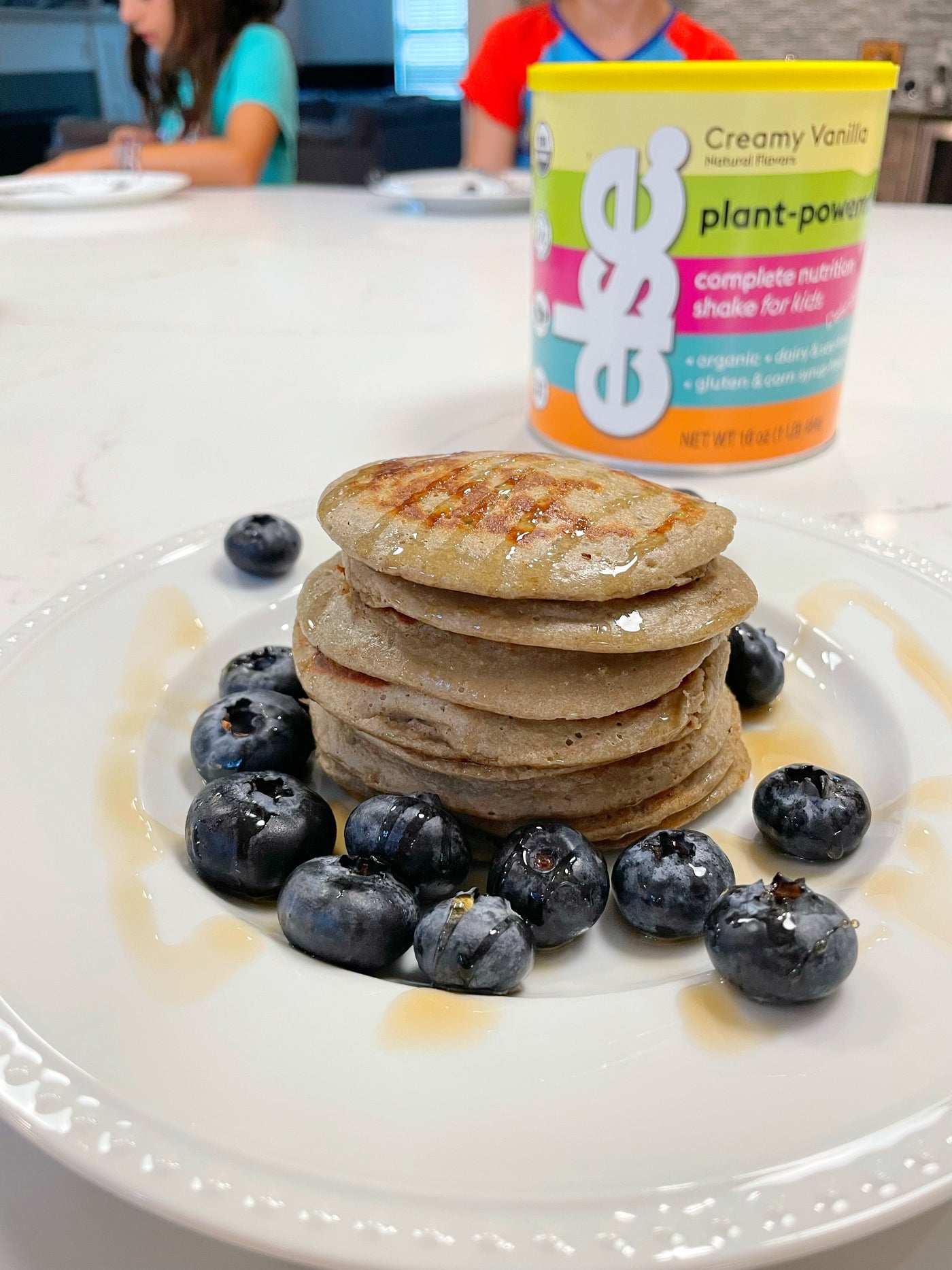 Up-level your kiddo's 🥞 pancakes! (#ad) Happy to have partnered with @elsenutrition to share my fave latest #momhack 
If you're worried about whether your kiddos are getting the nutrients they need to thrive & grow, this one's a game changer 🚀
These Easy Blender Pancakes contain only 6 ingredients, but they're packed with nutrients:
Ingredients 
1 ½ cups water 💦
2 cups whole oats
2 bananas 🍌
2 eggs 🥚 (or for egg-free kiddos, substitute 2 tbsp chia seeds + 5 tablespoons water and let sit for 5 minutes)
6 scoops @elsenutrition's new Plant-Powered Complete Nutrition Shake for Kids (Creamy Vanilla)
A little butter or avocado 🥑oil (for cooking)
Instructions
Blend, cook and serve! 🚀
Many kids move in and out of picky phases, some need an extra nutrient boost to help with growth, others have limited food choices due to allergies, sensitivities & intolerances. Having a convenient, easily accepted, complete nutrition option on hand to fill in nutrient gaps helps! 
Else just came out with the first whole foods-based, plant-based complete nutritional drink for kids. Here are just some of the reasons why I love it:
🌟 Complete nutrition composed almost entirely (95%) of organic almonds, buckwheat and tapioca 
🌟 Comes in 2 yummy flavors: Creamy Vanilla & Dreamy Chocolate
🌟 Made with real, whole foods & minimal processing
🌟 Certified USDA organic
🌟 Certified Plant-Based, Non-GMO
🌟 Gluten-free, Dairy-free, Soy-free, Peanut-free, Egg-free
🌟 No preservatives or colorants
🌟 50% less sugar than leading brands
🌟 Tastes amazing when used to upgrade PANCAKES 🥞! 
P.S. Not for kiddos with allergies to tree nuts
---