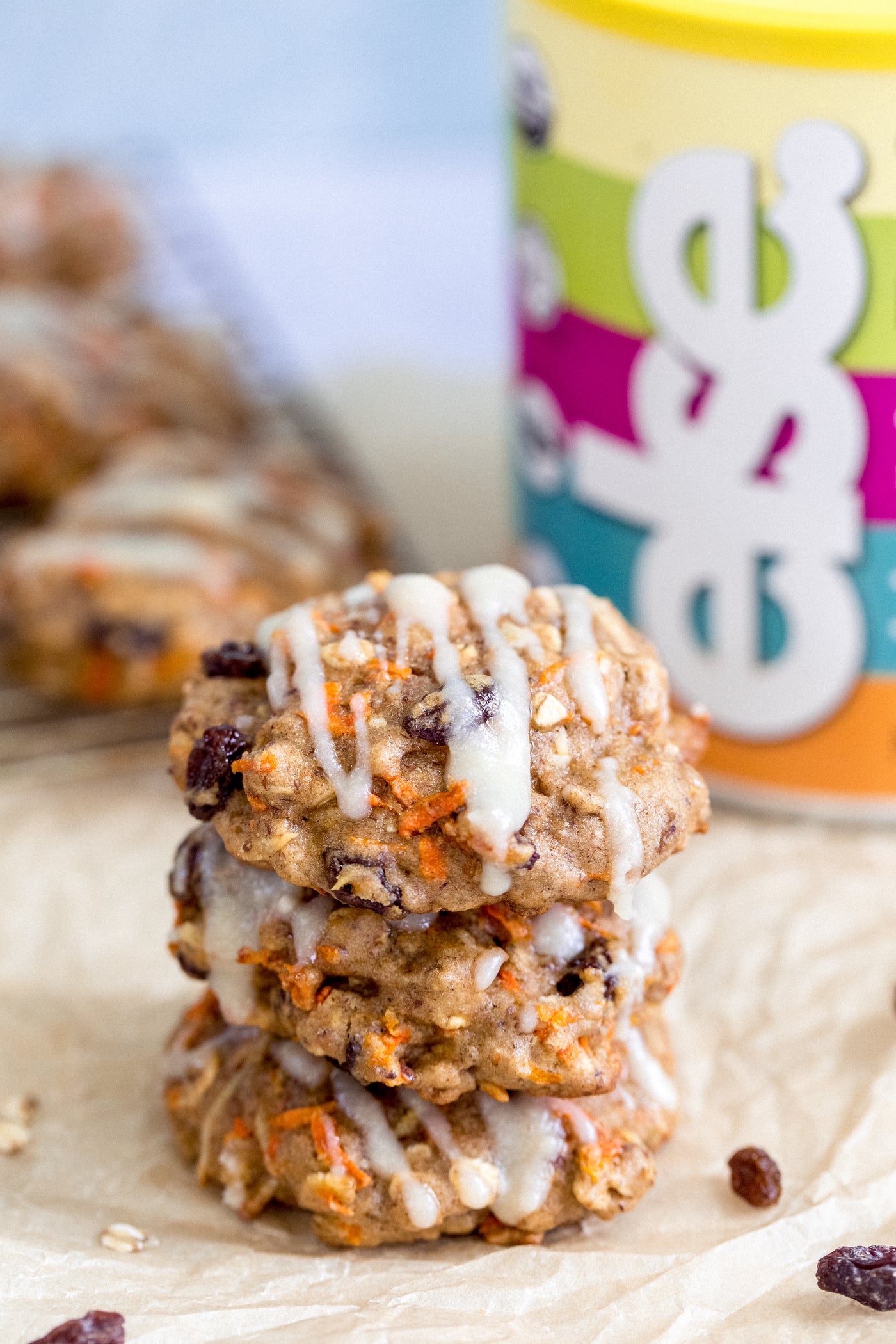 Makes approximately 15 cookies
Ingredients
1 cup whole wheat flour
1 cup rolled oats
¼ cup ground flaxseed
6 scoops Creamy Vanilla Else
2 tsp ground cinnamon
1 tsp baking powder
1/2 tsp salt
1/3 cup coconut oil, melted and slightly cooled
2 large eggs, at room temperature
⅓ cup maple syrup
1 tsp vanilla extract
1 cup grated carrots, about 2 medium carrots
⅓ cup raisins
⅓ cup unsweetened shredded coconut
¼ cup powdered sugar, for optional glaze
Instructions
Preheat oven to 350℉. Line two cookie sheets with parchment paper.

In a medium mixing bowl, stir together the dry ingredients: whole wheat flour, oats, flaxseed, Else, cinnamon, baking powder, and salt. Set aside.

In a large mixing bowl, beat together eggs, maple syrup, and vanilla extract. Slowly pour in the melted coconut oil while stirring. (The coconut oil should be cooled to room temperature after melting so that it doesn't cook the eggs. Likewise, the eggs need to be at room temperature so they don't solidify the coconut oil.)

Add the dry ingredients to the wet and stir until just combined. The mixture will be thick. Fold in the carrots, raisins, and coconut.

Use a ¼ cup to scoop the dough and drop onto the cookie sheets. Leave about 2 inches between cookies. Wet your hands with water and lightly pat down the tops of the cookies and shape them into rounds.

Bake cookies for 12-14 minutes or until the bottoms are lightly browned. Transfer to a cooling rack.

If glazing the cookies, wait until the cookies are completely cool. Mix together powdered sugar with 1 teaspoon of water at a time until desired thickness is reached. Use a spoon to drizzle over the cooled cookies.
Nutrition Information
For 1 cookie
Calories: 193
Fat: 9 grams
Saturated Fat: 6 grams
Sodium: 100 milligrams
Carbohydrate: 25 grams
Fiber: 3 grams
Sugar: 9 grams
Protein: 4 grams
---