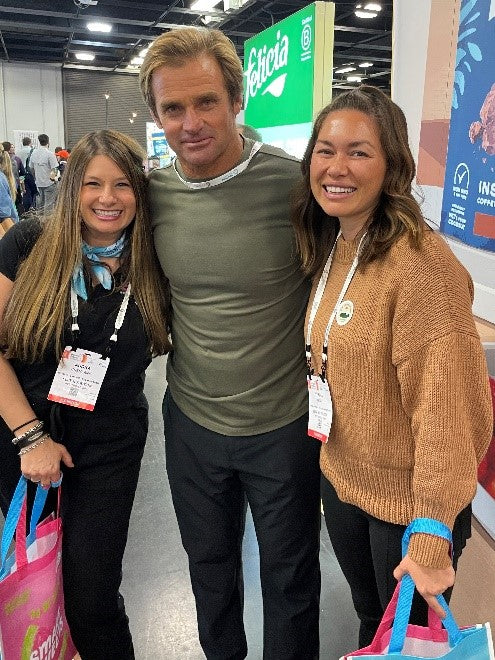 With a mission to build brand awareness, members from the Else team returned to the Natural Products Expo West tradeshow in Anaheim, California, in March 2023.  Expo West is the largest natural food and product convention in the U.S., where the clean, whole food, plant-based category continues to gain popularity. As we expand market share in the toddler and kids markets, we are also on the path to becoming the scientific leader in the plant-based infant formula market, pending FDA approval.
While there, members of the Else Team had opportunities to meet and mingle with other leaders and celebs. 
Hamutal Yitzhak, CEO and Co-founder of Else, and Audra Cremeans, Retail Marketing Manager for North America, had the pleasure of meeting Jackie Bowen, Executive Director of the Clean Label Project, in real life. While we've created a great online relationship with Jackie participating in an IG live about what Clean Label means with Else Nutrition's Dr. Kayla Bridges, and participating in a webinar Else Nutrition hosted about the FDA and Heavy Metals in Baby Foods, it was great to meet in person!   
Hamutal Yitzhak, Audra Cremeans, and Jackie Bowen
Audra also had the chance to meet Melissa Urban the founder of Whole30 and to chat with her team about Else's clean, whole plant-based kids options!   

DJ Tanner, VP, US Retail had the pleasure of talking to the 4x NBA champion, John Salley, when he visited our booth. Clearly in tune with the vegan lifestyle, he shared how important a plant-based lifestyle is for him and his children.

VP, US Retail, DJ Tanner with one of Detroits "Bad Boys," John Salley.
Vanna Kent, Regional Sales Manager, got to meet one of her favorite surfers, Laird Hamilton! Growing up in Hawaii and being a surfer herself, meeting Laird was definitely a highlight of the show!
While the Else Team was at Expo West to share our own plant-based, clean-label products, having the chance to see friends and meet new ones makes the experience even better!
We look forward to seeing many old and new friends at the next show. Until then enjoy our highlights reel from Expo West and see if you can spot yourself!
---