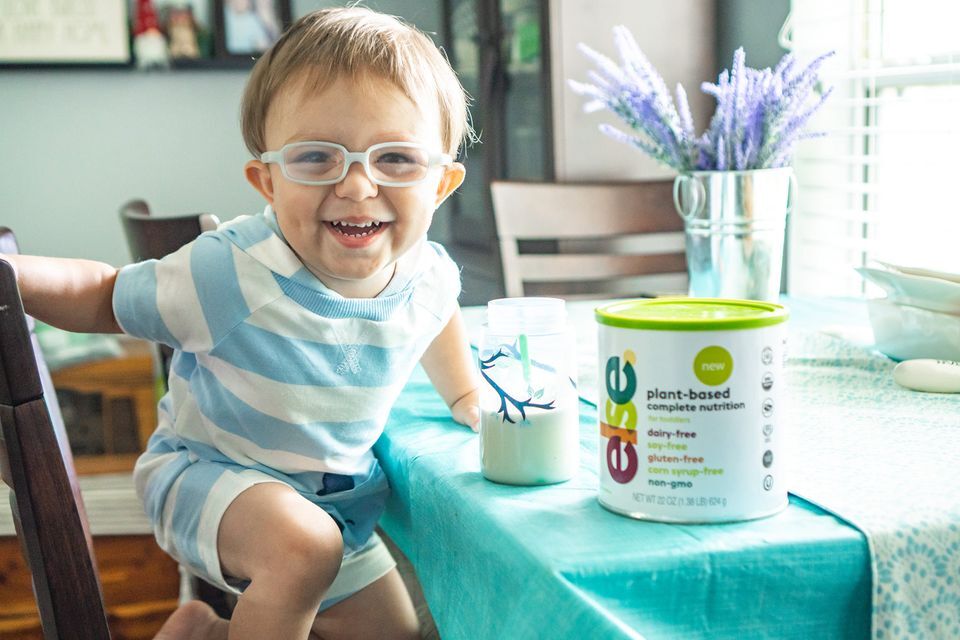 Listen to this article: 

Once you and your little one move past the lactating phase, it's a whole new world of meals and drinks. From veggies to fruits to grains to nuts, it seems like almost anything can either become your toddler's most or least favorite meal component. 
As a result, planning their meals seems like a never-ending struggle.
Regardless of all these factors, you have to give your best shot at setting the table for your little champ. Sure, it may be a tad challenging in the beginning, but if you plan their meals cleverly, then you'll at least feel assured that they receive their daily nutritional intake through a healthy diet. 
Best Drinks for Your Babies and Toddlers
Although there's a variety of flavored milk and 100% juices as well as artificially sweetened beverages, none of them are recommended for at least the first five years. 
One of the main reasons is the high added sugar content. Even in liquid form, feeding your toddler too much sugar, whether that is from milk, juice, or carbonated beverages can lead to dental cavities, unwanted weight gain, and other health complications. 
With that said, there are three kinds of drinks that are beneficial for almost every toddler. These include:
Milk
During the first 12-24 months, your baby's diet should rely mostly on milk. At this stage, breast milk is the best option. 
If breast milk isn't an option, infant formula provides the best alternative. These contain all the essential nutrients required for the baby. 
Some parents decide to introduce their toddlers to a commercial dairy or plant-based milk option within this period of time. While initiating this switch, make sure to provide the toddler with a nutrient-rich diet that is appropriate for their age. Furthermore, if you choose to serve your toddler plant-based milk, go with either fortified, unsweetened soy or pea milk, as these are the most nutritionally similar to cow's milk in terms of protein and calories.
Plain Water
After at least six months, you can start incorporating water into your child's liquid diet. This is a good opportunity for them to practice holding a sippy cup and learning how to drink from it.
Fruit Juices
Fruit juices do contain some nutrients, but they are also high in sugar. Even when no extra sugar is added, the natural sugars found in the fruit should still be taken into consideration as they can spike your child's blood sugar quickly If you do decide to offer your child fruit juice before the age of 24 months, cut it with water and practice moderation.  
Healthy Meals for Babies and Toddlers 
Drinks are the simplest part of their diet. And now, for the tougher choices: the toddler meal plan. 
Before we get down to planning how, how much, and when you should plan your toddler's meals, here are some meal ideas for you to try out for your little ones!
Breakfast Ideas for Toddlers
Being the most important meal of the day, breakfast needs to be as fulfilling, balanced, and delicious as possible. 
Blooming Toast
Want to get in their veggies and fats in a quick breakfast? Here's what to do:
Pop your bread in a toaster and let them turn golden brown

Get some celery, carrots, spring onions, mashed potatoes, peas, or any other veggie you want

Take your bread out of the toaster, layer some cream cheese on one side on each bread

Chop up your vegetables and sprinkle them on your toast
Waffle Sandwiches
These can be both sweet, savory, or even a mix of both!
Prepare your waffle according to your preference. You can add a dash of cinnamon. Be careful with salt, however, as your toddler's kidneys are still developing at this stage. A toddler should not get more than 1,000-1,500 mg per day of sodium. 

For the sandwich filling, you can choose anything from frozen yogurt to fruit slices to maple syrup to eggs. It's also a good idea to top a savory option off with lettuce and mayonnaise.
Pancake Party
Pancakes are another basic breakfast dish that you can revamp to suit your little one's dietary needs. However, try to keep them small and thin in size so that your toddler can easily finish their meal.
In the plain pancake batter, mix some milk and white chocolate chips to get a gooey, chocolatey texture

If you need a dash of color, you can add food colors or even some sprinkles to the batter

As for the topping, you can add honey, whipped cream, cinnamon, strawberry sauce, or the classic maple syrup!
Smoothie Bowls
Once your toddler can digest thicker foods, smoothies become an excellent breakfast option. This is mainly because they can be modified with any food group and flavor. For instance, you can:
Freeze the smoothie for a meal-like consistency and serve it with plain toast

Add baked bananas or dried fruits to the jar for a more wholesome serving

Whip a smoothie with a thick consistency and mix it with oats, cereals, or solid fruits such as raspberries or strawberries. This can also work as a one-dish, on-the-go breakfast!
Lunch Ideas for Toddlers
Lunch is another vital component of your toddler's meals because it provides them with new energy after they've exhausted themselves with their morning routine and have to prepare for their evening activities. 
Below are some easy and tasty recipe ideas for parents to have fun with!
Pita Pockets
Whether you make your own pita bread or buy a frozen batch from the store, this recipe will work out just fine. Just make sure your pita bread is chewable and suitable for your child's main course. 
While you cook the bread on medium-low flame, you can prepare the filling to go inside the pockets, such as:
Plain guacamole with Greek yogurt and celery sticks

Cucumber and avocado salad 

Tofu and broccoli
Salads
Since it's difficult to prepare meals for picky toddlers, you can try to make salads using their favorite meal components. The best thing about salads is that you can customize them for every member of the family. 
Here are some ideas that can help you get started!
Vegetable salad with avocado, tomatoes, spring onions, olives, baby corns, olive oil, and ranch or thousand island dressing.

Lettuce, cherry tomatoes, mushrooms, some lemon zest, and a small serving of sour cream on top.

Make a classic Caesar salad with some added rosemary and dried thyme. You can mix things up with some sauteed bell peppers and onions, as well as corn and olives. For added texture, consider a few croutons as toppings. 

Russian salads are another option you can test on your toddler. Simply boil some potatoes, carrots, eggs, and peas, and cut them all into dice shapes. Mix it with corns, olives, pineapples, or apples, along with mayonnaise and full-fat cream or plain yogurt!
Sushi Rolls
Want to give your toddler something intercontinental, but without making it too heavy for their stomach? Here's the perfect toddler sushi recipe just for you!
Lay down white bread on a cutting board and flatten it using a rolling pin until it's thin enough

Separate the brown edges and shape the bread into a rectangular shape

Add a dollop of whipped cream cheese and spread it evenly

Next, layer a teaspoon of your baby's favorite jam, such as blackcurrants or apple 

Start rolling from the shorter side of the rectangle. Make sure that the rolls are tight and firm

Cut the roll into smaller pieces and serve with fresh juice or plain water!
Toddler Dinner Ideas
Dinner is an important time, which is why you need something that everyone, including your picky, messy toddler, will love till the last bite. 
If you're hunting for some ideas, then just sharpen your knives and heat up the oil because we're about to share our all-time faves!
Spinach Pasta Plant-Based Meatballs
A recipe that combines all the major meal components to create a dish that will vanish within minutes!
Boil your spaghetti or fettuccine noodles in a large wok with salted water, then strain the noodles and immerse them in cold water until needed.

For your meatballs, combine chickpeas, breadcrumbs, carrot, zucchini, and an egg. Add in some mixed herbs, along with a small amount of grated cheese. 

Boil and chop spinach into bite-sized pieces. Add the spinach to the meatball mixture. 

Prepare your meatballs and fry them in olive oil or any other light oil that's available for you.

Next, the sauce. You can mix canned pasta sauce or prepare your own version at home. Combine it with a little bit of leftover pasta water and full-fat cream or canned coconut milk if you're looking for a creamy formula with a thicker consistency. Finally, add your spinach and meatballs to the mix

For the final look, heat up a tablespoon of oil in a pan, strain the pasta noodles, and add them to the pan. Top it with the spinach meatball sauce and shredded parmesan for a subtle garnish.
Soups
For toddlers who find it hard to digest solid foods, soups offer excellent versatility and convenience. Some soup ideas can include:
Cream of tomato soup with grilled cheese sandwiches.

Vegetable soup in chicken or beef broth. There are several beef-flavored vegan-friendly stock options on the market. 

Cream of mushroom soup with kale or spinach.

Creamy garlic mushroom soup with croutons.

Thai soup with a loaf of bread.

Egg and noodle soup can help soothe an upset stomach.
A Handy Meal Prep Guide for Toddler Parents
The average meal size for your toddler depends mainly on their age and weight. Besides, you can divide the total meal intake for the day into five-six meals throughout the day. 
This can include the three main meals, including breakfast, lunch, and dinners, and two-three snacks as per your toddler's energy requirements. 
A standard toddler meal for the day should ideally contain:
Half a plate of vegetables and fruits

Make sure about half of the plate consists of veggies that are high in protein

A quarter of grains, beans, lentils, and nuts

A serving of calcium-rich foods, such as dairy or non-dairy alternatives
Meal Sizes for Babies Under 12 Months
Before one year, your toddler cannot properly chew or digest solid or semisolid foods. You may try mashed bananas, puddings, mashed potatoes, or porridge, but the major nutritional requirements can be met through breast or formula milk alone. 
Meal Sizes Between 12-24 Months
Once your toddler starts crawling and walking, they will need more and more calories. At this stage, offer around 1000-1200 calories each day, which takes around 7000 to 8400 calories in a toddler weekly meal plan. Take your toddler's level of activity into consideration, however. By the age of 24 months, toddlers who are very active may need as much as 1400 calories every day. 
Of these, try to get at least 500 calories through healthy fats, such as oils,  and high-fat fruits and veggies. For a clearer idea, here's what an ideal daily intake should look like:
Vegetables: 2/3 – 1 cup

Fruits: ½ – 1 cup

Grains: 1 ¾ – 3 ounces

Dairy or fortified non-dairy alternative: 1 2/3 – 2 cups

Protein: 2 ounces
Meal Sizes for 2-4 Years
At this stage, the amount of calorie intake for children almost doubles. Your toddler now needs a minimum of 1,000 and ideally 1,400 - 1,600 calories each day, 30% of which can be from healthy fats. 
For other daily meal components, you can follow this breakdown:
1-2 cups of vegetables 

1 ½ cups of fruit 

3 – 5 ounces of grains 

2 – 2 ½ cups of dairy or fortified non-dairy 

2 – 5 ounces of protein
Conclusion
Planning toddler meals is something that requires certain considerations and calculations. If you try to feed them just anything at any time, it won't provide the same health benefits or nutrition. 
It may take some time to figure out what your child likes to eat, what they are intolerant of, and how you can shape their meals to fit their lifestyle and requirements. 
The ideal toddler meal should contain all the food groups in varying quantities, which is where our meal prep guide can help you out!
References
https://babyfoode.com/blog/75-toddler-meals-healthy-easy-recipes/
http://conditions.health.qld.gov.au/HealthCondition/condition/8/31/325/infant-formula-feeding 
The content and advice provided in this article is for informational purposes only and is not a substitute for medical diagnosis, treatment, advice for specific medical conditions. Always consult a pediatrician to understand the individual needs of your child.
---