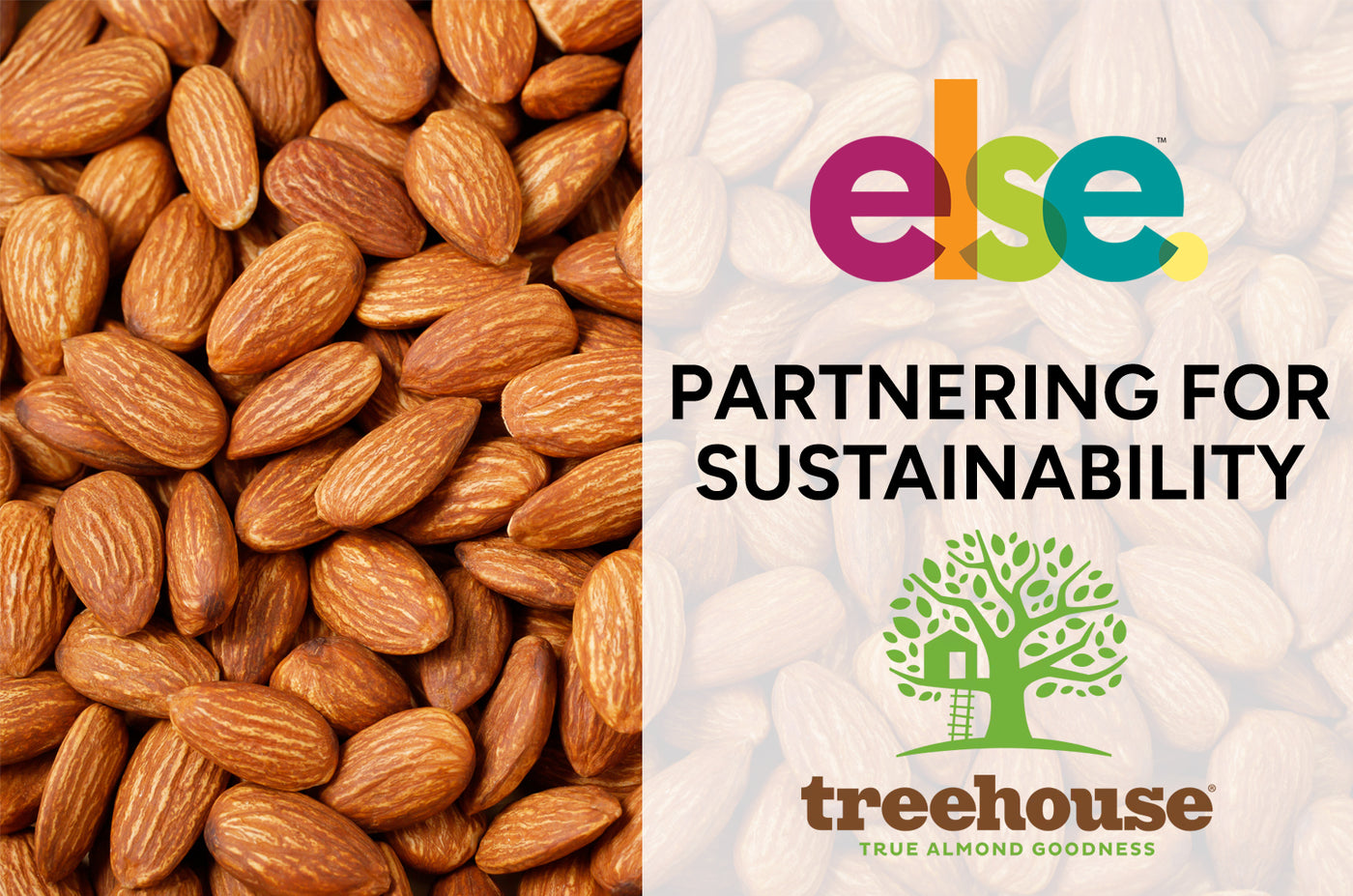 We are excited to share some remarkable news from one of our most valued partners, Treehouse California Almonds. As we join them in championing a sustainable future, it's worth reflecting on the role business partnerships like ours play in advancing environmental preservation and regeneration. As such, we are exceptionally proud to share the successes of Treehouse California Almonds, which embody our shared commitment to sustainable practices and ethical values.
Treehouse was recently honored with the prestigious New Hope (Pack Expo) Regeneration and Sustainability Award for 2023, reflecting their dedicated efforts in eco-friendly innovation. As one of the founding members of The Almond Project, they lead the industry in developing sustainable and regenerative solutions — for today and the future.
"Here at Treehouse, we take great pride in our partnership with Else. Our shared values to protect our natural resources, supporting farm communities and producing healthy food products is essential to regenerating our supply chain for a sustainable future."
- Mauro Trevisani - CEO
A Dedication to Water Conservation
Their commitment to sustainability is evident in their water conservation efforts. Treehouse Orchards employs state-of-the-art practices such as micro-sprinklers, drip irrigation, and Hortau field management systems, saving precious water in all their operations. The results are so impressive that they have been certified by the renowned California Stewardship Program – CASP, a leading water conservation program.
BEE Friendly Farms for Pollinator Preservation
Beyond almonds, Treehouse is dedicated to preserving a critical part of our ecosystem — bees. Their Bee Friendly Farming initiative has transformed 23,000 acres of almond trees into bee-friendly zones. As a certified company of the Pollinator Partnership, they are playing a pivotal role in maintaining food diversity and security across the nation.
Traceability in Almond Cultivation
Treehouse goes above and beyond to provide full transparency in its almond cultivation. Thanks to their state-of-the-art farming expertise and rigorous management practices, every almond-based product used in our brand is traceable back to the acre where it was grown and harvested.
Championing Regenerative Agriculture
As a founding member of The Almond Project, Treehouse is at the forefront of sustainable farming methods. Their goal is to create a resilient future for almond cultivation by preserving natural resources, regenerating ecosystems, protecting farming communities, and safeguarding the supply of nutritionally rich almonds for generations.
Harnessing Solar Power
Treehouse's commitment to green energy is commendable. Sixty percent of their facility's power comes from solar energy, thanks to a recent 1MW investment, significantly offsetting CO2 and NOx emissions.
Zero Product Waste Commitment
In line with a zero-waste philosophy, Treehouse ensures that all almond inputs are utilized in their production cycle. They also adhere to a strict Recycling & Waste Management program, setting high standards in industry best practices.
Promoting Diversity, Equity, and Inclusion (DEI)
Treehouse demonstrates its commitment to creating a diverse and inclusive work environment, with representation from five continents and a workforce that is close to 50% female. They also actively support rural communities, fostering a culture of respect and inclusivity.
Preserving Land for Future Generations
Treehouse has established land conservation easements on over 1,000 acres of prime agricultural land, ensuring these areas are preserved for future generations.
At Else Nutrition, we are honored to partner with suppliers as committed to sustainability and responsible business practices as we are. We celebrate Treehouse California Almonds for their substantial efforts and look forward to achieving more sustainable milestones together. If you, too, are interested in sustainable solutions and products, consider joining us and Treehouse on this rewarding journey.
---