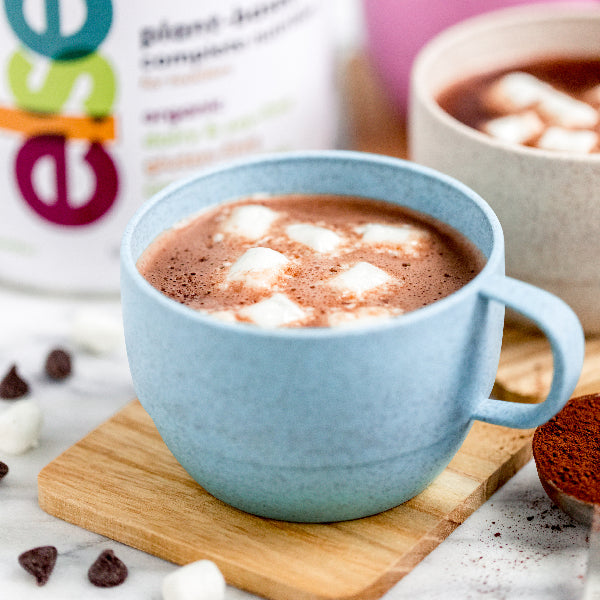 Finding the right 
hot cocoa recipe
 when you're trying to avoid dairy, soy and refined sugar isn't that simple. That's where Else comes in. Treat your kids with this warm, comforting and nutritious treat after a fun day outside in the snow. 
Makes approximately four 4-ounce (½ cup) servings or two 8-ounce (1 cup) servings
Ingredients
2 cups filtered water
8 scoops Else toddler formula 
2 tbsp unsweetened cacao powder
1 tbsp + 1 tsp pure maple syrup
1 tbsp semi-sweet chocolate chips (use dairy-free variety if preferred)
½ tsp pure vanilla extract, optional
Instructions
Combine water, Else, and cacao in a medium sized saucepan set over medium-high heat. Whisk ingredients together until smooth. Heat mixture until simmering.

Add chocolate chips and maple syrup, stirring until chocolate is melted.

Remove from heat and stir in vanilla extract, if using.

Divide hot chocolate evenly into mugs. Top with marshmallows or whipped topping, if desired, and enjoy warm.
Note: For a flavor twist, try adding 1-2 teaspoons of your favorite natural nut butter, such as peanut or almond butter, to the saucepan with the other ingredients.
Nutrition Information
Per 4-ounce (½ cup) serving:
Calories:  127 
Fat:  5.5 grams
Saturated Fat: Less than 1 gram
Carbohydrate: 17 grams
Fiber:  2 grams
Total Sugar:  6.75 grams
Added Sugar: 6.25 grams
Protein:  3 grams
Per 8-ounce (1 cup) serving:
Calories:  253 
Fat:  11 grams
Saturated Fat: 1.75 grams
Carbohydrate: 35 grams
Fiber:  4 grams
Total Sugar:  13.5 grams
Added Sugar: 12.5 grams
Protein:  6 grams
---