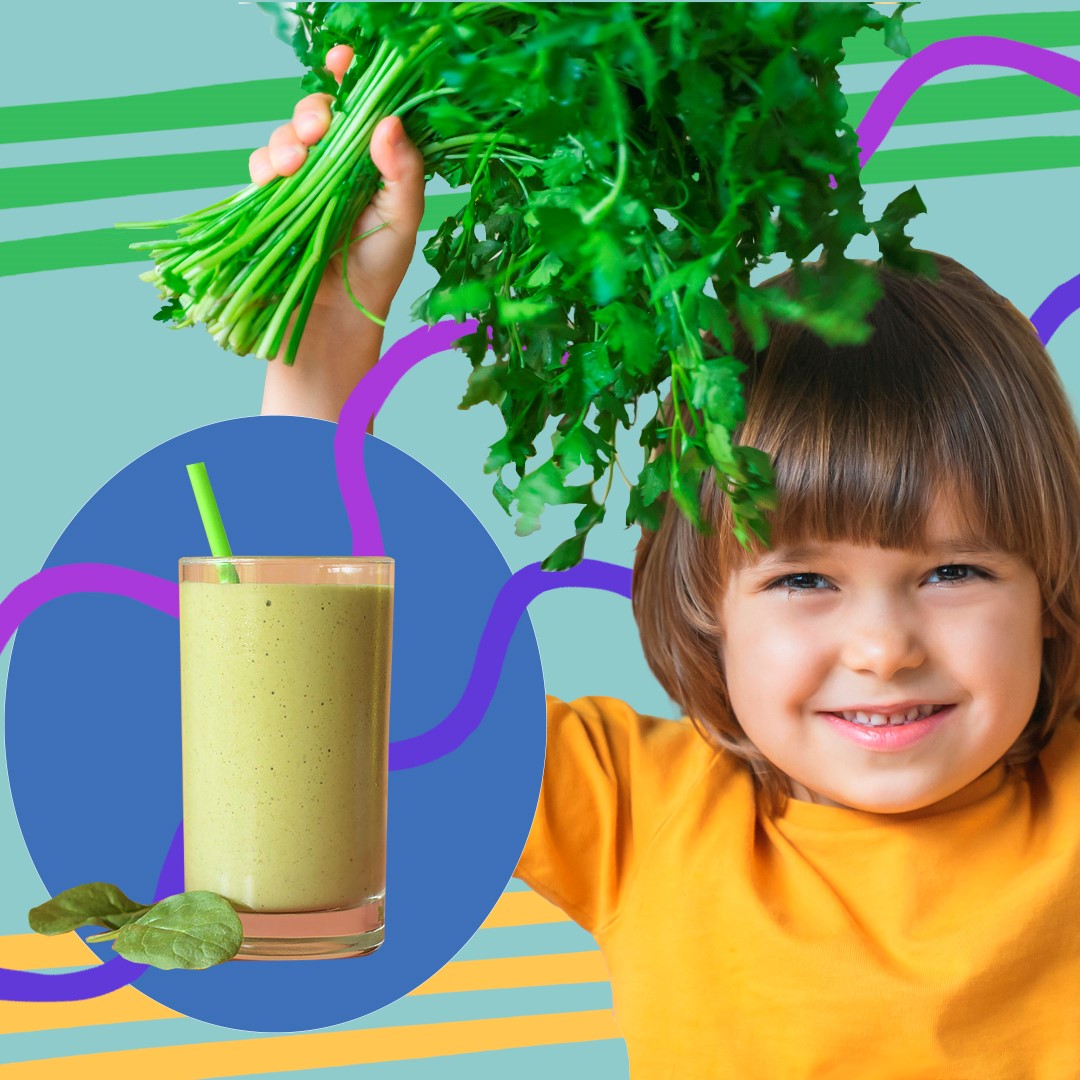 Listen to this article:

Nutrition shakes are the go-to beverage for health-conscious and active parents. Shakes and smoothies match busy lifestyles, while providing the balanced nutrition gained from real, whole foods.

But what about for kids—are there benefits to serving them organic nutrition shakes?

In one word: Absolutely.

Unlike the sugar-filled smoothies of your childhood, organic nutrition shakes and smoothies can actually play an important role in supporting your kid's growth—all while curing them of their sweet tooth. Organic nutrition shakes for kids can help you transform snack time, with even the fussiest of the little family members able to find a shake or smoothie they love.

Read on to find six spectacular benefits to adding an organic nutrition shake to your child's sippy cup.
1. It's a Great Option to Incorporate More Fruits and Vegetables
It's a tale as old as time: your kid refuses to eat her vegetables. Whether it's Brussel sprouts or cauliflower, your child probably has that one food that never, ever, ever leaves her plate. No choo-choo train. No "here comes the airplane." No way.
If you've got a fully-fledged picky eater on your hands, organic nutrition shakes are here to rescue you from mealtime woes. Blend your child's least favorite (as well as their favorite) healthy fruits and vegetables into their organic nutrition shake. They'll never taste the difference!
Your son might never eat his plate of kale and spinach, but he'll love a Hulk inspired shake filled with greens. Picky eaters never stood a chance.
Smoothies Are Full of Fiber
Unlike with juicing, fruits and vegetables blended into smoothies retain much more of their fiber content. Plus, according to pediatrician Shakha Gillin, blended smoothies are also a great source of vitamins, minerals, and even protein, as the whole fruit and vegetable are retained within the drink. You can also disguise your nutritional shake as a milkshake by adding almond milk, organic spinach or organic kale, peanut butter, and cacao powder!
Saves You The Headache at Mealtime
For many parents, mealtime can become a source of anxiety. If your little one is particularly stubborn, it can feel like hours are spent arguing over a plate of Brussel sprouts. You may love crispy roasted Brussel sprouts glazed with a sweet sesame-honey reduction, but your child might need a couple more years to appreciate these versatile veggies.
When in doubt, sneak the veggies they need into the blender and whip up a delicious, nutritious shake.
2. Start the Day Off Right: Morning Nutrition Fit for Every Child
Like adults, some kids struggle to get in all of their necessary nutrients. Maybe they trade parts of their lunch at school for an extra piece of dessert from their friends. Or maybe, as mentioned, you're dealing with a picky eater that puts other picky eaters to shame!
Whatever the reason is, starting off the day with a healthy smoothie can offer them the boost they need to develop strong bones. For a nutrient-fortified breakfast smoothie, blend a tasty combination of vegetables, fruit, and a nutritious dairy alternative.
3. Taste the Rainbow: New Flavors Every Day
According to registered dietitian and author Ryan Andrews, one of the greatest benefits of an organic nutrition shake is that you can add almost anything. This means that you can embrace dietary diversity, switching out key ingredients daily so that your child has a well-rounded nutritional intake. Try spinach one day and kale the next. Add cauliflower or avocado. The options are endless.
Registered dietitian Miranda Hammer agrees with this notion. She describes a nutritionally balanced smoothie as not only "a really great way to get in those key foods" but also "the foundation for a healthy breakfast or snack."
To that end, experiment with fruits, vegetables, seeds, nuts and plant-based protein powders to expand your child's palate. 
Chia seeds, hemp seeds, flax seeds, and nut butters can add protein and fat to boost the classic fruit smoothie into a well-rounded and nutritious shake for kids. You can even experiment with unique ingredients like acai powder, cacao, or spirulina, herbs like cilantro, mint, or parsley, and spices like cinnamon, nutmeg, ginger, or turmeric.
When it comes to protein powders, opt for clean label, plant-based ones to get the highest source of nutrients. 
Else Toddler formula is full of the necessary nutrients your child needs to thrive, including protein, healthy fats, Vitamin D, and Vitamin B-12. It's also organic, gluten-free, corn-syrup-free, and low sugar. 
So when it comes to organic nutrition shakes, who knows what you'll invent. Did somebody say pumpkin spice organic nutrition shake?
4. Enriched With Antioxidants Galore
Fruits have wonderful antioxidant and anti-inflammatory benefits. Organic nutrition shakes and smoothies can balance out fruit's high sugar amounts by including other nutrient-rich ingredients, like fiber. Dark leafy green veggies like spinach, kale, or even Swiss chard will provide extra fiber, calcium, vitamins A, C, and K, powerful phytochemicals, and protein that can help keep blood sugar in check and sustain hunger cravings longer.
Your child still gets to taste their favorite fruit, and you get the peace of mind that they are consuming all their essential nutrients in a simple and easy organic nutrition shake. That's a win-win. 
5. Satiate the Hungriest Children With Snack Time, Anytime
Hungry Hungry Hippos is both a childhood favorite board game and a cautionary parenting tale. Between their rapid growth spurts and intense bursts of playful exuberance, children expend a lot of energy, which means they need to intake a lot of energy too.
Organic shakes and smoothies can be the perfect snack for your little bouncing ball of energy. Chia seeds or nut butters will add in protein and fat and help fuel your child all day long.
6. Set Them Up for a Healthy Future
Did you know that plant-based diets reduce the risk of chronic disease and cancer, and green, leafy vegetables are linked to a lower risk of developing Type2 diabetes and cognitive decline? Did you also know that only 9 percent of Americans get the recommended daily amount of vegetables?
Adding vegetables to your child's organic nutrition shake will not only benefit their current nutritional needs but will teach them to incorporate vegetables into their daily life as they age.
Help them find vegetables that they love so they can continue a healthy, plant-based diet into adulthood.
Put Down the Potato Chips and Try Something Else
If you're sold on the benefits of organic nutrition shakes and smoothies for your kids, but they still need a little convincing, then it might be time to get creative. There are endless fun and even themed flavor combinations for you and your children to try. 
An avocado and strawberry smoothie will taste like a summer's day. A banana, honey, and hazelnut smoothie will be sure to satisfy your child's sweet tooth. A brilliant berry smoothie will turn breakfast from boring to exciting. And a creamy mango and coconut smoothie can bring them back to summer vacation.

Explore additional recipes in our Else recipe book.
At Else, we're reimagining mealtime to provide your family with the very best in plant-based nutrition. We know a thing or two because we pioneered the world's first and only real alternative to dairy-based nutrition for babies and toddlers. Organic and free of dairy, soy, gluten, corn syrup, and GMOs, our products are the answer to the question that plagues parents' minds when they're walking the baby food aisle: isn't there something else?
Yes there is. There's Else.
Sources 
Gillin, S. (2017, July 28). Are blended smoothies good for my child? HealthyChildren.org
Shortsleeve, C. (2018, November 14). Are Smoothies Healthy and Good for Weight Loss? Time. 
Alleaume, K. (2020, November 3). Why are my kids always hungry? A nutritionist explains. Kidspot. 
Good Food Team. (0AD). Best smoothies for kids. BBC Good Food. 
The content and advice provided in this article is for informational purposes only and is not a substitute for medical diagnosis, treatment, advice for specific medical conditions. Always consult a pediatrician to understand the individual needs of your child.
---