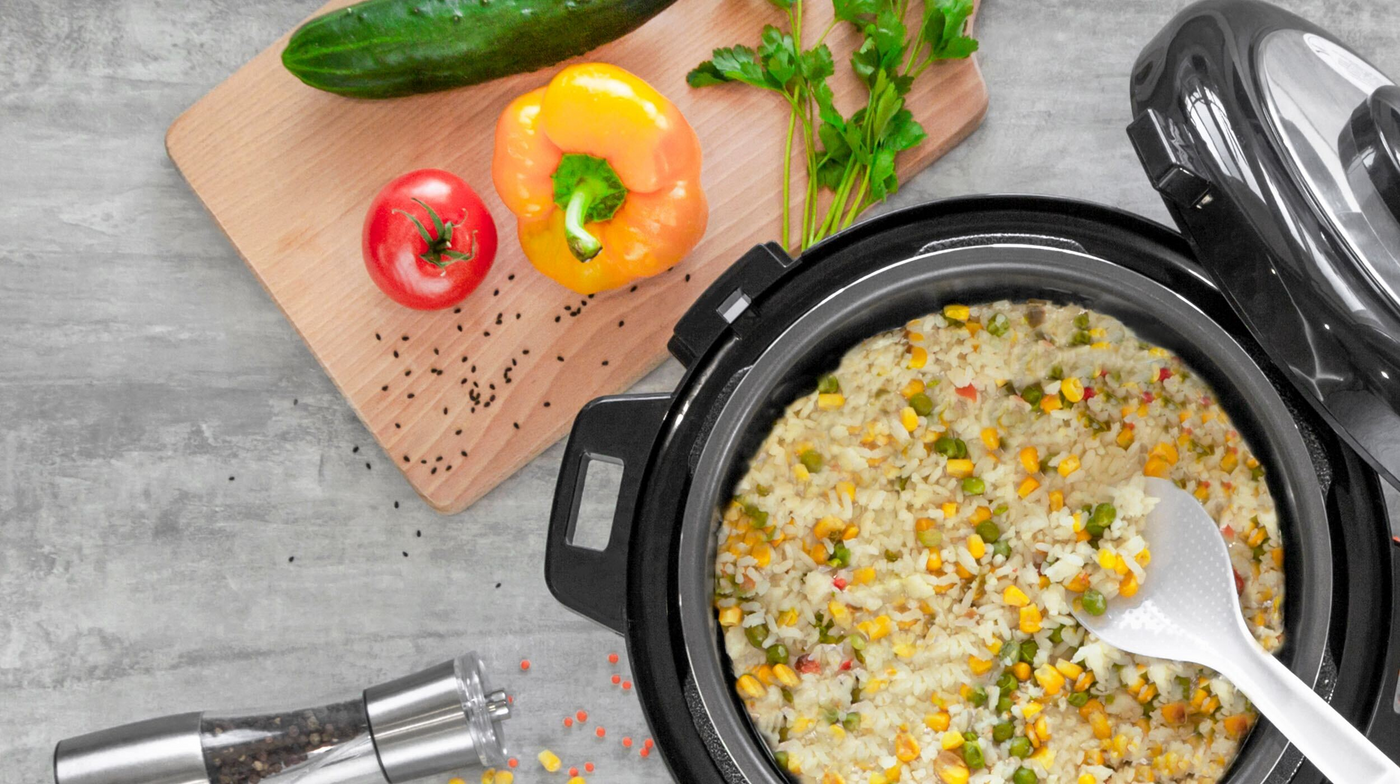 Listen to this article: 

While cooking, parents often want a meal that takes less time and effort to cook and pleases their children, and understandably so.
At the same time, you also want to make sure you're fulfilling all your child's nutrient requirements. With these kid-friendly crockpot meals, you won't have to worry.
How do you like the sound of putting something on the stove in the morning and then coming home to a fully cooked meal? What do you think of cooking something that even your pickiest children will love? If any of this sounds appealing, these crockpot meals are for you!
Here are a few kid-friendly crockpot meals both your kids and the adults in your house will love! 
Lasagna Soup
When we talk about lasagna, we usually think about an oven-baked dish. Sure, this might be the traditional lasagna, but how about trying something new? Soup is one of the most popular dishes made with crockpots - so combine this with a delicious lasagna. Best of all - you don't have to worry about the lasagna feeling soggy, as you add it only close to the end of the cooking period. 
While there are quite a few ingredients to add, you'll be able to leave everything in the crockpot until almost the very end of the meal. You'll need some spinach leaves, brown lentils, onions, cloves, vegetable broth, tomatoes, and, of course, a few herbs. Just remember to be light with the salt.
Moroccan Sweet Potato Lentil Soup
When thinking about soup, you may not think of sweet potato as a primary ingredient. Yet, this particular soup takes advantage of sweet potato to bring an interesting twist to a classic lentil soup. The soup is very easy to make and goes great on its own or with a piece of bread. 
You'll need some sweet potatoes, carrots, celery, onions, and red bell pepper for this recipe. You can choose between brown or green lentils, depending on your preferences. You'll also need garlic, coriander, cumin powder, and a small amount of nutmeg to add to the flavor. Choose a vegetable stock that is low in sodium, and add some baby spinach, along with the additional spices. M sure you use a very mild curry powder, as you may want to avoid giving your child anything too spicy. 
Broccoli And Rice Casserole
If you're still trying to get your kids to eat broccoli, but none of you are a fan of soup, how about a casserole? This casserole is not only delicious and nutritious but also very cheesy. One of the best things about the broccoli and rice casserole is the fact that you only need five ingredients and time in the crockpot. 
You'll need some broccoli, an onion, and a can of mushroom soup. You'll also need some uncooked rice, as well as a jar of cheese dip. Add the ingredients into the crockpot and put it on high for an estimated four hours. 
Quinoa Tacos
Want to introduce your family (including the kids) to Taco Tuesday, but want to avoid the meat? Then use quinoa as a protein source instead. Quinoa is considered a very healthy addition to any meal. It's filling, nutritious, and gives your kid that daily dose of protein they need to grow up big and strong. 
The quinoa tacos are not as effortless as some of the other meals, but they will surely be worth your time. You'll need some quinoa, corn, tomatoes, beans, vegetable stock, and a few dashes of enchilada sauce. Add in a taco seasoning, while ensuring there are no spicy ingredients included. Most stores will sell a mild version of taco seasoning. 
Once cooked, you'll need a couple of tortillas to serve up the tacos. Make sure the tortillas are warm when serving. 
Taco Soup
Want your tacos without the tortilla? Then consider trying out some taco soup. You'll find that this recipe has a lot in common with the quinoa tacos - just don't add the quinoa. Leave out the chilis, of course, and hold the chili powder as well. 
Luckily, this recipe is versatile. You'll add a few spices and toppings after the cooking time. This means you can keep the soup mild while adding a few spicy ingredients to your own. Make sure you stock up on some nacho chips too - the soup makes a great dip for a bag of these snacks. 
Slow Cooker Lo Mein
Let's face it - soup is great, but it can feel overwhelming when that's all you make in your crockpot. Switching things up now and then is a great way to also add more variety to the table. When you're feeling like Chinese takeout, why not give this slow cooker Lo Mein a try? It's easy to make - as you only need around 10 minutes to prepare everything. Plus, it still gives you that dose of protein you usually get - just with tofu instead of pork or beef. 
To prepare this Lo Mein, you'll need some vegetable stock, peas, carrots, broccoli, onion, and a few scallions. Low sodium soy sauce, along with some rice vinegar, ginger, and sesame oil adds a few finishing touches to the recipe. 
Of course, Lo Mein wouldn't be complete without the addition of some pasta. To finish things off, you'll be adding linguine, as well as some tofu, to the dish. With this dish, there's no need to wait half a day - it takes about two and a half hours before you are ready to serve up the Lo Mein.
Split Pea Soup
When winter strikes, we all know that a bowl of soup can be very comforting. If you prefer a thick and flavorful option, then give this split pea soup recipe a try. You'll be cooking up this recipe for eight hours - so make sure you start early in the morning or prep it to cook overnight while everyone sleeps. 
To prepare a batch of this split pea soup, you'll need some split peas, of course. You will also add a leek, some celery, carrots, parsley, and a bay leaf. Choose a vegetable broth that doesn't contain too much salt - or, better yet, a salt-free option. This way, you have more control over the sodium content of the soup. 
If there are leftovers, add them to the freezer. This split pea soup is perfectly suitable for reheating - either in the microwave or on the stovetop. 
Stuffed Peppers
Okay, so when we hear the word "peppers", we usually think about something spicy - and we all know that kids don't like to (or should) eat spicy foods. No, in this case, we are referring to stuffed bell peppers instead. These peppers do not burn the mouth - instead, they offer a pleasant flavor to this meal. 
For this recipe, you'll be preparing some black beans, along with quinoa, and stuffing them into your favorite bell peppers. You can choose to cook this meal on either low or high heat, with the cooking time ranging from three to six hours. You'll need some bell peppers, quinoa, black beans, refried beans, enchilada sauce, and a couple of spices. Cheese, sour cream, avocado, and cilantro all make great toppings for the stuffed peppers. 
Vegan Chicken And Rice
Looking to prepare something simple that takes less effort? How about a classic dish that combines chicken and rice. This one is perfect when focusing on plant-based foods, but still want to experience one of the classic dinners. You'll need some brown rice, water, frozen peas, and about two tablespoons of olive oil. You can also use refined coconut oil if you prefer it as a replacement for olive oil. 
The recipe also calls for some bouillon powder. Make sure you use vegetable-based bouillon powder. If you can't find any at the store, then combine nutritional yeast, sea salt, onion powder, Italian seasoning, dried thyme, turmeric, and some salary salt to make your own. Just be sure to store the leftover powder in an airtight container - you can use it in future meals. You'll also need some soy curls. Try to find an option that uses whole soybeans and make sure the option you choose is vegan friendly. 
Sweet Potatoes Stuffed With Black Beans
How about a recipe that only uses just a few ingredients and takes minimal effort? Not only is this dish delicious, but it also gives you a large dose of protein, along with some extra nutrients. You'll need some black beans, salsa, salt, water, garlic powder, and a dash of smoked paprika. These ingredients form the filling that you will use to stuff the sweet potatoes. While your filling is cooking, add your sweet potatoes to the oven. This way, you'll be able to stuff the sweet potatoes the moment you take them out. 
You can choose between a variety of toppings to add that final touch to the meal. Skip the cheese and sour cream, and rather opt for a few slices of avocado, some cilantro, and shredded cabbage. To add zest, consider serving up the stuffed sweet potato with a lime wedge. 
Sloppy Joes
Everyone loves a sloppy joe - but many think that these are meals left to the meat lovers. While sloppy joes are traditionally made with meat, there's no need to skip out due to your plant-based diet. This recipe gives you a 100% plant-based recipe that you can use to prepare the perfect sloppy joes that will satisfy even the picky eaters. 
You'll need quite a few ingredients, and the cooking time is a bit longer compared to some of the other recipes - but it will all be worth it in the end. For the sloppy joe filling, you'll need some textured vegetable protein, garlic, Medjool dates, tomato paste, salt, onions, blackstrap molasses, mustard, and maple syrup. You'll also need some tomatoes and a vegan-friendly Worcestershire sauce. The recipe does call for some hot sauce - but it's best to skip this ingredient when dishing up for the kids. Instead, keep the hot sauce for a topping among those who like their food spicy. The mixture goes into the slow cooker for around six hours - so be sure to set it up earlier in the afternoon. While the recipe does not provide any specific details on what to fill, we recommend grabbing yourself a sourdough bread. You can, of course, also make simple flatbread - combine yeast, water, salt, and some flour - let the dough sit for a while, then start preparing your flatbread. Alternatives that are also great for vegans include focaccia, ciabatta, and a baguette. 
Final Words
When deciding what to make, it is always a good idea to choose a dish that maximizes convenience and satisfies your children. 
These 11 kid-friendly crockpot meals are delicious, comforting, cozy, and extremely easy to cook. For most of them, you can simply leave the effort to the slow cooker and go about your work.
References
https://www.thechunkychef.com/the-best-crockpot-meatloaf
https://tasty.co/article/jesseszewczyk/kid-friendly-slow-cooker-recipes
https://www.womansday.com/food-recipes/food-drinks/g3228/crockpot-recipes-for-kids/?slide=20
https://funnyisfamily.com/2015/08/back-to-school-crock-pot-recipes.html
The content and advice provided in this article is for informational purposes only and is not a substitute for medical diagnosis, treatment, advice for specific medical conditions. Always consult a pediatrician to understand the individual needs of your child.
---